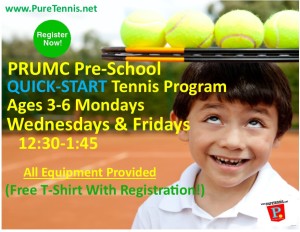 The QuickStart Tennis Format offered by Pure Tennis LLC has been specifically created for children 10 years of age and under.
QuickStart Tennis is a new format to help kids ten and under learn and play the game. To make it easier for them, we changed a few things. The court sizes. The racquet sizes. The balls. The scoring system. Even the net height.
Now any child between ages five and ten can start playing tennis almost immediately-even if he or she has never picked up a racquet before.
Like other popular youth sports, QuickStart stresses the importance of play and team competition. It's also now part of the USTA Jr. Team Tennis league and can be part of your existing programs as well. Which means that even more kids will have the opportunity to experience this new format, have fun playing with their friends and develop skills that will become the foundation of their game.
It's the FAST, FUN way to get kids into tennis — and KEEP THEM PLAYING!
Tennis-Fit for Kids
Tennis Fit for Kids is a group play activity featuring action-based tennis drills and games for children ages 8 to 12 of all ability levels. This program emphasizes movement and fun using fitness monitors to track progress and set fitness goals. Using age-appropriate equipment, TF4Kids develops tennis and athletic skills while improving health and fitness.
Non-intimidating and motivating athletic environment for kids of all skill levels.           
Kids can experience tennis without the pressure of competition

Focus is on the development of balance, coordination and agility.
Creates a pathway to attract new junior tennis players and to broaden the pool for player development.
Kids can get hooked at an early age to a healthy sport for a lifetime!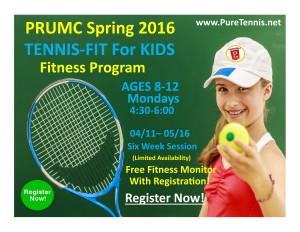 Tennis Fit for Kids is designed to invigorate children's tennis programming and helps fight childhood obesity. Childhood obesity and sedentary lifestyles have become international issues that need to be addressed. Through its unique tennis fitness programs, Pure Tennis LLC helps children gain physical strength, knowledge, and self-esteem, laying the foundation for a healthy and fit lifestyle.
Ages 8-12 Mondays 4:30-6:00 (minimum of eight participants)
Program Date: 04/18 – 05-23 (Free Program Demo 04/11)
Cost: $189 (Six Week Program)
Includes Free Fitness & Sleep Monitor!