Register for Hyde-Addison Elementary After-School Tennis Program!
Howdy Parents!
Pure Tennis is excited to announce that we will be offering our exciting and popular  after-school Tennis Program for the wonderful PK-3 students at Hyde-Addison Elementary for Winter Session 2018!
PK-K  "TENNIS TOTS" 

Tuesdays 3:30-4:30 9 weeks

GRADES 1-3  "QUICK-START"  

Thursdays 3:30-4:30 9 weeks
 There will be a maximum of eighteen slots available in each session on two mini-courts with two instructors so don't delay and get your tennis star enrolled soon!
Tuesdays "Tennis Tots" (PK-K) 3:30-4:30
Dates: 1/09, 1/16, 1/23, 1/30, 2/06, 2/13, 2/20, 2/27, & 3/06.
Thursdays "Quick-Start" (Grades 1-3) 3:30-4:30
Dates: 1/11, 1/18, 1/25, 2/01, 2/08, 2/15, 2/22, 3/01 & 3/08.
Please click HERE to register for our winter session at Hyde-Addison!
Invite your friends to join in on the 
FUN! 
Our great tennis programs promise to be challenging, rewarding and 
FUN
 but will be limited so please remember to register EARLY!
The Greatest Compliment You Can Give is the referral of Your Family and Friends! 

Please feel free to contact me directly with any questions?
See you on the mini-court,
Coach Tony


Pure Tennis LLC offers professionally coached after-school tennis programs at a variety of elementary schools and PK-3 centers. Utilizing the USTA's Junior Tennis format, our certified staff brings portable nets, rackets and balls to your community courts, school or after-school programs. We teach your child the FUN-Damentals of tennis in a safe, recreational setting. Tony Farnum supervises the program to ensure that your child has a positive learning experience while receiving the same high-quality instruction that he has provided in the Atlanta metro area and surrounding communities for over 30 years! 
Tennis-Tots (Grades PK-K)
Tennis Tots is a fun filled and challenging junior tennis coaching program conducted in a scaled-down environment which is designed for little players to learn the basic tennis strokes and ball skills.
This program is aimed at enhancing motor skills such as hand-eye coordination, balance, movement and spatial awareness.  We will be encouraging a wide array of skill sets which can easily cross over to other sports; running, catching, striking, 3-step movement patterns, aerobic, anaerobic, team building and the ability to play the sport for a lifetime.  Each lesson is full of games that incorporate tennis skills to ensure players are engaged and most importantly, having fun.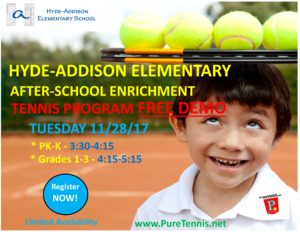 Quick-Start Tennis for Kids (Grades 1-3)
Quick-Start Tennis for Kids is a group play activity featuring action-based tennis drills and games for children ages 4 to 10 of all ability levels. This program emphasizes movement and fun using age-appropriate equipment, Quick-Start develops tennis and athletic skills while improving health and fitness.
Our goal through QS Tennis is to create a more challenging and social interactive program for the kids who are working their way up from Tennis-Tots. This further enhances and speeds up the learning experience while building good communication, teamwork and improved tennis skills. We introduce stroke fundamentals and enhancement skills of the forehand, backhand,, volley, serve and return of serve.  Players also will learn scoring, court awareness and learn to build a solid foundation of ball consistency and placement.
 Non-intimidating and motivating athletic environment for kids of all skill levels.
Kids can experience tennis without the pressure of competition
Focus is on the development of balance, coordination and agility.
Creates a pathway to broaden the pool for player development.
Kids can get hooked at an early age to a healthy sport for a lifetime!
Grades PK-K 3:30-4:30 & Grades 1-3 4:15-5:15

(minimum of eight & maximum of sixteen participants per session)

Program Date: (Pending) 

Cost: $198 (Eight Week Program)

* Please remember that registration for this exciting program is a "first-come    first-served" basis and any delayed full registration/payment does not guarantee your    reservation  in this program. 
Our Junior Development Tennis Programs are designed to stimulate and challenge children of all levels, age groups and abilities. Our future Champions will learn more than how to hit a tennis ball, they will learn good sportsmanship, teamwork and how to have fun playing the game of tennis!

Coach Tony and his professional staff strive to know everyone by name and take a personal interest in each student. If you want your children to have a positive tennis experience, where the tennis is serious but FUN, sign up and reserve a space NOW as there is limited availability.
Got Questions?
Phone: 404-290-9994
We look forward to seeing you on the mini-court!
Coach Tony