Pure Tennis LLC offers professionally coached after-school tennis programs at a variety of elementary schools and K-6 centers.
Utilizing the USTA's Junior Tennis format, our certified staff brings portable nets, racquets and balls to your community courts, school or after-school programs. We teach your child the FUN-Damentals of tennis in a safe, recreational setting. Tony Farnum supervises the program to ensure that your child has a positive learning experience while receiving the same high-quality instruction that he has provided in the Atlanta metro area and surrounding communities for over 25 years! 
Tennis Tots Junior Development Tennis Program for students aged 3.5 year olds – Kindergarten students
Tennis Tots is a fun filled and challenging junior tennis coaching program conducted in a scaled-down environment which is designed for little players to learn the basic tennis strokes and ball skills.
This program is aimed at enhancing motor skills such as hand-eye coordination, balance, movement and spatial awareness.
We will be encouraging a wide array of skill sets which can easily cross over to other sports; running, catching, striking, 3-step movement patterns, aerobic, anaerobic, team building and the ability to play the sport for a lifetime.
Each lesson is full of games that incorporate tennis skills to ensure players are engaged and most importantly, having fun.
2016/2017 Tennis Tots
Date: 01/09/2016 – 05/15/2017
Days: Thursday
Time: 3:30PM – 4:30PM
Location: DCS Montessori Charter School:
Instructor: Pure Tennis
Price:$160.00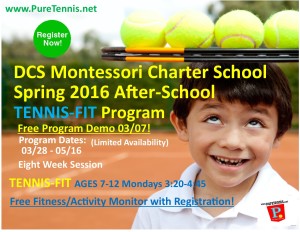 Tennis-Fit for Kids
Tennis Fit for Kids is a group play activity featuring action-based tennis drills and games for children ages 7 to 12 of all ability levels. This program emphasizes movement and fun using fitness monitors to track progress and set fitness goals. Using age-appropriate equipment, TF4Kids develops tennis and athletic skills while improving health and fitness.
Non-intimidating and motivating athletic environment for kids of all skill levels.
Kids can experience tennis without the pressure of competition
Focus is on the development of balance, coordination and agility.
Creates a pathway to attract new junior tennis players and to broaden the pool for player development.
Kids can get hooked at an early age to a healthy sport for a lifetime!
Tennis Fit for Kids is designed to invigorate children's tennis programming and helps fight childhood obesity. Childhood obesity and sedentary lifestyles have become international issues that need to be addressed. Through its unique tennis fitness programs, Pure Tennis LLC helps children gain physical strength, knowledge, and self-esteem, laying the foundation for a healthy and fit lifestyle.
Grades K-3 Tuesdays 3:30-4:30 minimum of eight participants)
Program Date: 10/18/2016 – 12/13/2016
Cost: $160 (Eight Week Program)
Includes Free Fitness/Activity Monitor!