Dear All Saints Members,
Our Spring Semester for 2013 Junior Tennis Program will begin Tuesday January 15, 2013 and continue through Tuesday April 16, from 12:30-1:15pm. This Program will include eleven weeks of  "Quick Start" Jr. tennis sessions and participants must be four years of age to enroll. Each mini-court will be limited to a minimum of six participants and a maximum of eight participants per instructor so don't "dilly dally!" and SIGN UP NOW!
DATES:
1/15, 1/22. 1/29, 02/05, 02/12, 02/26, 03/05, 03/12, 03,19,03/26 and last lesson on 04/16
TIMES:
12:30 – 1:15pm each week on Tuesday afternoons in the gym.
COST:
$205
Click Here To Sign Up Now!
We focus on physical activity, safety and tennis FUNdamentals! We don't emphasize competition for small children. However, as children progress in ability and age, specific scoring methods are introduced. We teach tennis knowledge and skills that children can build on and enjoy throughout their entire lives.
Play and Stay initiatives are based on children using the right sized racquet and reduced speed balls on smaller courts suited to their size and age. These programs aim to retain players in the sport by ensuring that their first experience is both positive and enjoyable.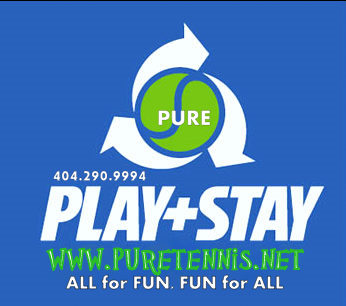 Play and Stay/QuickStart Tennis Structure:
° Warm-up and Action Games
° Instruction-Theme of the day
° Play and Stay Team Tennis-Players participate in fun "competition" with their teammates
° General motor skill development featuring tennis specific activities
° Team games and relays
* Coach Tony and staff know everyone by name and take a personal interest in each child. If you want your child to have a positive tennis experience, where the tennis is serious but FUN, sign up and reserve a space NOW as there is limited availability.
Click Here To Sign Up Now!
Got Questions?
Please contact me at:
Email: tonyfarnum@puretennis.net

Phone: 404-290-9994
We look forward to seeing you on the mini court!
Best,
Tony